This page includes basic biographical information on each of the main characters.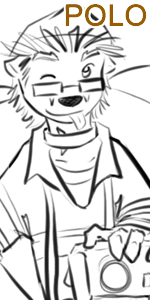 Name: Polo Teutopolis (tay-you-top-oh-less)
Age: 19
Sex: Male
Species: American River Otter
Height: 6'
Weight: 137
Family: Polo is one of twins - he's older than his brother by 32 minutes. He lives with his brother in a three-bedroom apartment. His parents divorced when he was a child and his mother got custody. The last time he saw his father was when he was twelve years old. He gets a card with a $20 bill in it for his birthday.
Description: Polo is tall and thin, but not to the point of being lanky. His fur is medum brown with a light brown muzzle. The medium brown cuts down around his nose in sharp, thin dips. He has a birthmark: a bold, cream coloured zig-zag on the right of his neck.
His eyes are blue, and he wears black "Rivers" glasses. He also wears a beanie often, and is rarely seen without his camera and his cellphone shoved in his pockets. He dyes his hair a light blue, and keeps it short and spikey. His natural hair colour is light brown, seen in his sideburns.
Job: Photography student at art college; works full-time as a waiter in a diner.
Skill: Martial Arts - feet (kickboxing)
top
top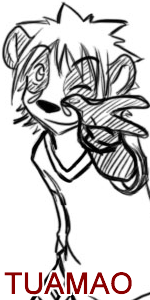 Name: Tuamao Fujian (tu-ah-mao fu-ree-an)
Age: 22
Sex: Male
Species: Giant Panda/Asian Small-Clawed Otter hybrid
Height: 5'10
Weight: 165
Family: Tua's father's side is the panda side - his mother's side is the otter. He has a big family on each side, but he lives in America while they're all located in China, so he rarely sees them or speaks about them. His "family" is the squad.
Description: His body is a mainly otter build, although he has the bulk of his panda genes. His fur is mostly white, except for two brown tear drop markings on his muzzle - a nod to his Asian Otter heritage. He has traditional panda markings - two black spots over his eyes, black arms and legs, as well as a black, round mark on the end of his tail and two small rings near the base of his spine. His hair is pure white, spiked into short, thick chunks. His eyes are dark brown.
Job: Coffee Shop manager
Skill: Martial Arts - fists (Kempo)
top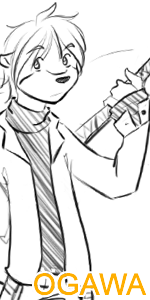 Name: Ogawa Kinjo (oh-gah-wa)
Age: 21
Sex: Male
Species: Japanese River Otter
Height: 5'8
Weight: 125
Family: He comes from a daimyo family in Tokugawa Era Japan. Due to an attempted murder and a time rift, he's landed in present day. Tuamao discovered him wandering the streets of Japan on a little vacation, and smuggled Ogawa back into the US with him! He was an only child; now, like Tua, his family is the squad. Ogawa lost his family in a car accident and is suffering from post-traumatic retrograde amnesia brought on by brain trauma. It has been revealed that Tuamao was his friend before the accident and took him in as family afterwards, and has since been maintaining a ridiculous number of lies in an attempt to protect Ogawa from the truth. A recent slip of a past photograph brought the truth tumbling out, and has left Ogawa optimistically anxious to pursue the truth about his past...
Description: Ogawa is mainly a nice caramel-y brown shade. He has a cream muzzle that slides up and frames the bottom of his eyes, and sneaks down along his neck and across his belly. He also has dark chocolate markings on all four paws and the end of his tail. Rather than fading straight into the lighter brown, his dark markings spiral up his limbs in three rings.
He has dark red hair kept relatively short and shaggy, with bangs that hang just slightly into his hazel eyes.
Job: Working at Tuamao's bagel shop.
Skill: Kendo
top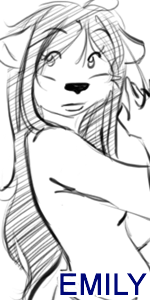 Name: Emily Quaroni
Age: 18
Sex: Female
Species: African Spotted-Necked Otter/Black-backed Jackal hybrid
Height: 5'8
Weight: 120
Family: Emily has a younger brother named Reuben, and her family lives in Maine.
Description: Emily is what most would call a "mutt" - her species is not instantly distinguishable, having so many different species in her background. The two most prominant characteristics in her close family line are what defines her species, though if asked, she will likely just tell you she's an "otter-dog."
She has long, black hair spilling down to the middle of her back, and long sideburns of around waist length. Her ears are large and mostly canine, but are rounded on the ends. She has a cream muzzle and chest - and though her neck and chest are dappled with black spots, most often they can't be seen in normal clothing. She has a long, deep gray cape on her back and a black line straight down the middle. Her tail is long and roughly furred, and the gray cape from her back spills along it in a stripe all the way to the tip.
Job: Full-time college student; part-time student worker in library.
Skill: ???
top
all images, text, & html (c) 2004-2012 beanie unless otherwise stated.